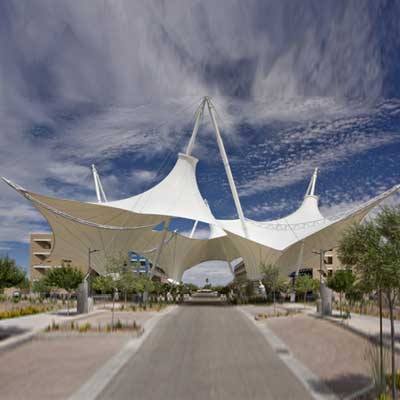 Tensile structures are widely used as a way of protection against the weather in public places. It is because of structures like these can span large distances and be aesthetically pleasing at the same time. They are usually supported by some type of compression or bending the elements.
Nowadays, one may find many Tensile umbrella manufacturers in the market to choose from.
Why use fabric in tensile structures
Fabric can facilitate great spans than conventional building materials, with a less supporting structure. Better translucency and organic shapes bring the feeling of the outside inside. It also gives shade and protection from the weather.
Upon comparing it with concrete and steel construction, there is an economy of cost per square meter, longevity, and strength with fabric. The main cost saving arrives with reduced installation time. It is due to the support structure and fabric membrane is pre-fabricated and assembled on site.
What is tension
It is the force used to pull the molecular structure of material apart. The most efficient way of using any material as it uses the whole cross section at maximum efficiency instead of just the material at the extreme of the cross-sectional.
What is a tensioned fabric structure
The right tensile fabric structures are those in which each and every part of the fabric is in the tension. A fundamental rule for stability is, tensioned fabric structures must be curved equally in opposite ways by doing this the canopy gets 3-dimensional stability.
How is a 3-dimensional form achieved
The 3-dimensional form of any canopy is achieved not by elastic fabric instead by cutting the fabric and bringing it together to create the final shape. The fabric is put during the installation process and is known as pre-tension.
Global Tensile Structure is the finest Car Parking Shed manufacturers in the market these days. We always work to satisfy the requirements of our clients. Also, make sure to provide services that are unable to complete customer's expectations.